The wizard comic con was amazing. Three days of non-stop people passing by my table.

The big hit of the weekend were the Bohemian Night postcards and this little game I unveiled for the first time there... 

...More of that next post. I met so many nice people both in the crowd and behind other tables.  I have to give a warm shout out to my table neighbor Stewart Sayger who is not only and amazing artist, but was so incredibly kind and generous in  helping a convention newbie like myself. Thank you Stewart. Look forward to seeing you at future cons.

Thanks also to the great people at Wizard World for helping set up my panel and keeping me up to date with anything I might need. Also thanks to Jennie Breerden for all her wonderful advice and encouragement. (More on the panel on Thursday's post) And of course, a big thanks goes out to my comic minions, James and Joseph who were there with black  coffee in the morning, and taking over the table when I wasn't always able to be there, and all around great guys to hang out with during a con. -You guys are the shit!

I was also fortunate enough to meet one of my most influential artists of all time, George Perez! One of the nicest artists of the old guard that you could ever hope to meet. I even splurged and got this fantastic (pun intended) sketch by him.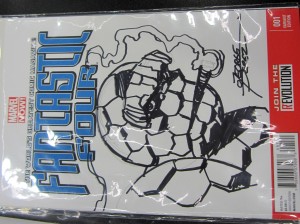 There's lots more to tell. I'll have many more pictures on the Bohemian Nights Facebook site as well as on next post but I am just exhausted.  But I will leave you with the my favorite cos-player of the weekend...

Galactus is the shit!  
Save